OUR REFERRAL PROGRAM
($ Earn Significant Money with ZERO Risk $)

Do you know anyone who could benefit from our program?


Refer a new client and earn $150.00 - $250.00 every time!

Anyone who owns a business is an excellent candidate for our program. If you can simply direct someone to our website you could make $150.00 - $250.00 for each referral that signs up with us.

Five clients that sign up with us would earn you $800.00 - $1200.00 depending on which package they choose. Your payment corresponds to the packages we offer.., $150.00 for the $150.00/month package, $200.00 for the $200.00/month package, and $250.00 for the $250.00/month package. Do that every month and that could be an extra $15,000.00/year in your pocket!

Not bad for just getting people to our website…, once they arrive there's a GREAT chance they'll sign up! You just need to get them there, and we'll handle the rest!

For those of you who really see the potential here, it could mean a REAL income source.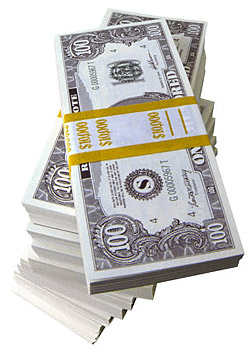 Seriously. Do you see the uniqueness of our program? Isn't it nice to have something that sells itself…, actually…, isn't it nice to have a product that DOESN'T NEED TO BE SOLD!

That's what our program is all about! That's why we put all the effort into developing a NO BRAINER…, this makes complete sense program for ALL small businesses.

IT DOESN'T HAVE TO BE SOLD!

This program was designed by small business owners to be the perfect end all marketing package for ALL small business owners. We just need to show it…, NOT sell it! There's nothing else like it with 12 years of satisfied customers and a NINETY SIX PERCENT retention rate.

If you are a good communicator, or have integrity and can be passionate about something that you believe in, or if you're a business owner and "get it", in fact if you're ANYBODY and "get it"…, you can make a nice income with our program.

Just TEN clients a month could easily be an extra $25,000.00 in your pocket each year.

If by chance…, you know a little about internet marketing…, you could build a business around our product! If you know how to drive traffic to our site you could easily bring in an extra $20,000 to $40,000 to your bottom line. We can set up a tracking system just for you to automate the entire process!

Or you could just simply offer our package to your clients. Either way it's a great opportunity to partner with us and instantly get started gaining an additional income.



INTERESTED?

We'd love to have you! Leave us your information below and we'll contact you and get you started this week!


Fields marked with

*

are required in order to submit the contact form.